Hello, again!
The raffle has now officially ended, and I used random.org to raffle a winner

Thanks to everyone who entered this short raffle!!!///
Here is the list with all participants:
docs.google.com/document/d/15d…
The numbers changed due to me removing a few people who didn't follow the rules.
Please don't expect to get a chance to win this raffle if you don't follow me rules to begin with;;
I also had to re-roll because the first person who entered this raffle had unwatched me already.
THIS RAFFLE IS SUCH A MESS THIS TIME LOLOL
But!!! Here's the final winner: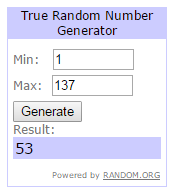 ♥♥ Congratz to

! ♥♥
I'll be drawing your price in the next few days and note you the finished image soon!
---

I did this type of raffle last year already and It was really fun so I wanted to do it this year too ♥♥
I'm turning 19 sooooooooooooon (I feel so adult LMAO #NO)

There will be one winner, but depending on how many enter I might pick multiple
The winner receives one Chibi. Style Example:
How to join:


1. You must be a watcher.
New watchers are always welcome, but please don't watch just for free art

2. Share this journal in a new poll/journal
keep in mind that I'm not accepting journals/polls that were made before this journal was posted

3. Comment with your OC reference and poll/journal you created
You may choose multiple OC (max 10) if you can't decide which one you want to get drawn




DEADLINE : 12. March 2017